Dental Implants in Great Neck, NY
If you have lost or missing teeth you may wish to consider a dental implant from Elite Dental Spa in Great Neck, NY. While they may sound a little scary, they actually allow missing teeth to be replaced with little impact on neighboring teeth (like grinding down teeth to make bridges). Also much of the dental work with implants is actually done outside of the mouth.
Our Great Neck, NY dentist, Dr. Eliot Heisler D.D.S., is a highly experienced specialist in prosthodontics. Whether its a single tooth or an entire dentition, Dr. Heisler is able to plan and deliver highly aesthetic and perfectly fitting dental restoratives. Why not come in for a free second opinion or consultation?
Dental implants are a relatively simple procedure and effective in almost all cases, so there's no need to put off restoring that great smile. As with all our dental services, you'll be treated with the nurturing care and professionalism that embodies Elite Dental Spa's practice. We'll make sure that you're kept comfortable and informed throughout the implant process and we'll always be available to address any questions or concerns.


How Can Implants Be Used?
• Full Upper Replacement - The entire upper set of teeth is replaced with implants.
• Full Lower Replacement - The entire lower set of teeth is replaced with implants.
• Anterior Replacement - Implants are used to replace the front teeth (incisors and cuspids).
• Posterior Replacement - Implants are used to replace the back teeth (bicuspids and molars).
• Single Tooth Replacement - One tooth is replaced, and none of the other teeth are affected.


Dental Implant Procedure
Significantly stronger than bridges or dentures, a dental implant offers a single and permanent solution to a lost tooth. The implant is integrated into your jaw with a small titanium screw which is surgically placed in the jaw in place of the root.
Over the course of several months, the implant naturally bonds with your mouth. As the implant heals, it fuses with the bone tissue in the gums, which helps to lock the implant in place and to prevent the erosion of healthy bone tissue. After the implant has healed, the cosmetic crown is attached and the restoration is complete.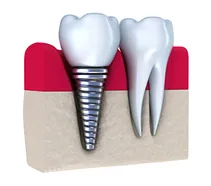 If you decide to get dental implants, keeping up a good oral hygiene routine and following up with preventive treatment with your dentist in Great Neck is mandatory to preserve the health of the implant and the rest of your teeth and gums.


Implants Support Bone Health
The most important health benefit of dental implants is their ability to maintain the structure of your jaw bone. Normally, the mechanical forces of chewing stimulate the jawbone to remain dense and strong in that area. But when a tooth is missing, your body no longer sees a reason to maintain that bone density, so it allows the bone to break down. Without dental implants, the bone begins to deteriorate.
Over time, this bone loss can lead to:
Premature aging of the face
Collapsing of the lips, cheeks and jaw
A sunken appearance to the face
Shifting of remaining natural teeth
Other teeth becoming loose or damaged
Dental implants are the only way to replace the tooth root and continue stimulating the production of bone tissue in the jaw. The sooner you replace a missing tooth with a dental implant, the more bone structure your body maintains. This helps protect both your natural teeth and your replacement teeth, giving you a solid foundation for a lifetime of dental health.


Are Dental Implants Right For You?
Unfortunately, not everyone is a candidate for dental implants. For an implant to take hold, a candidate must have proper bone density and have a strong immune system. If you are an adult in good health, you may be a good candidate for implants. In all cases, dental implants require strict oral hygiene and are not recommended for smokers. Like any restoration, implants require diligent oral hygiene and proper care to ensure they last a long time. According to a study by the Academy for Oral Implantology in Austria, implants have a 97 percent success rate.
Don't wait to replace missing teeth! Protect your oral health and function. Elite Dental Spa can restore your smile with dental implants! Call our Great Neck, NY dental office at (516) 829-2001 to schedule a consultation.